The Neo-Futurists & The Ruffians present:
Burning Bluebeard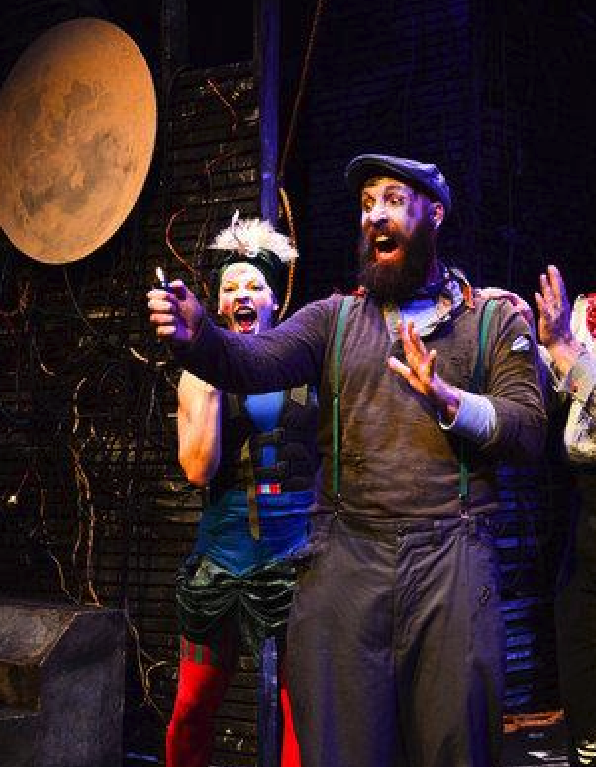 Burning Bluebeard runs December 26-31 (Shows start @ 7:30pm on 12/26-29, with 3:00pm matinees on 12/29-30, and 7:00pm on 12/31 — see calendar for full breakdown)
Doors to the theater will open 30 minutes prior to show. The box office will honor a first-come-first-serve waitlist at this time.
Street parking available on Ashland and Foster.
Show runs approx. 100 minutes.
---
The Neo-Futurists and The Ruffians partner to bring BURNING BLUEBEARD back to the Neo-Futurist stage, which premiered here in 2011. Written by Neo-Alum and Ruffian Founder Jay Torrence and directed by Neo-Artistic Associate Halena Kays, BURNING BLUEBEARD will feature original cast members Pamela Chermansky (Fancy Clown), Jay Torrence (Robert Murray), and Ryan Walters (Eddie Foy), with newcomers Kaitlyn Andrews (Nellie Reed), Dave Honigman (Henry Gilfoil), and Crosby Sandoval (Faerie Queen).
The run of BURNING BLUEBEARD will include a performance on the 115th anniversary of the actual Iroquois Theatre fire, Sunday, December 30.
Additionally, a New Year's Eve VIP Package is available, which includes performances of BURNING BLUEBEARD (7:00 pm) and THE INFINITE WRENCH (11 pm), with dinner and drinks in between and a midnight toast to conclude the evening.
---
ABOUT THE SHOW: Inspired by the true story of Chicago's 1903 Iroquois Theatre Fire, BURNING BLUEBEARD is the story of six singed clown performers who emerge from the burnt remains of history attempting to perform their spectacular Christmas Pantomime once and for all. But this time, they hope to finally reach the true happy ending of their second act and avoid the fateful fire that killed 600 of its audience members. BURNING BLUEBEARD is a whimsical romp with a sensitive heart, a joyful eulogy with a sharp irreverent wit including music, clowning, tumbling, acrobatics and dance. Each performance is a vaudevillian delight with a story that excavates the poetic and poignant remains of a piece of Chicago's rich history.