The Neo-Futurists & Neo-Lab present:
Comfortable Shoes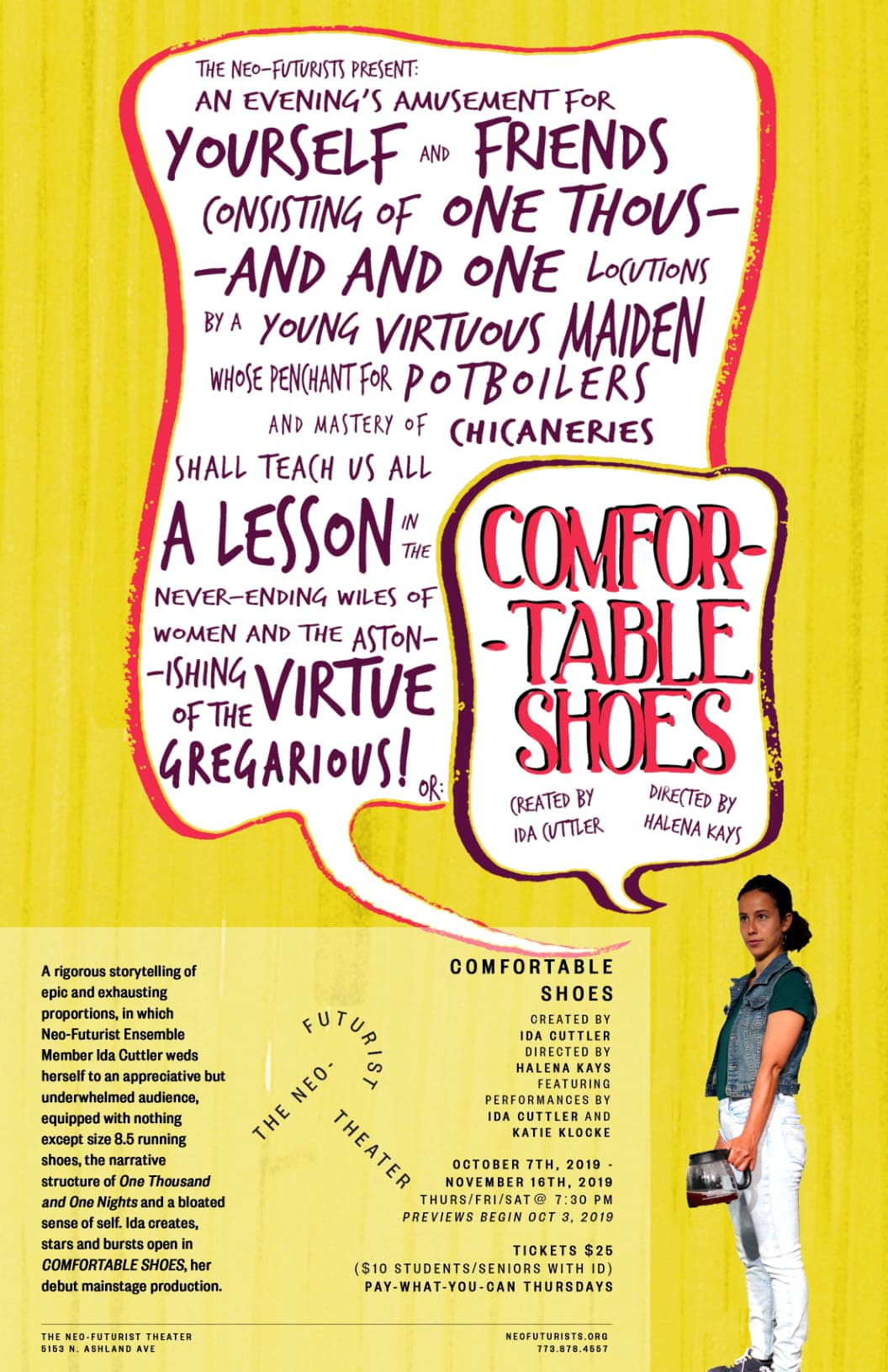 Oct 3-Nov 16, Thu-Sat @ 7:30
---
Now playing, Neo-Futurist Ida Cuttler's Prime Time premiere:
An evening's amusement for yourself and friends,
consisting of one thousand and one locutions by a young virtuous maiden
whose penchant for potboilers and mastery of chicaneries
shall teach us all a lesson in the never-ending wiles of women
and the astonishing virtue of the gregarious!!!!!!
–OR—COMFORTABLE SHOES
// Created by Ida Cuttler, Directed by Halena Kays // Performed by Ida Cuttler and Katie Klocke //
Runs 10/3-11/16, Thurs-Sats @ 7:30 // Opening Night Monday, Oct 7 :: w/ Pay-what-you-can previews Oct 3, 4, 5.
GET TICKETS TO COMFORTABLE SHOES
---
ABOUT COMFORTABLE SHOES:
In this rigorous storytelling of epic and exhausting proportions, Ida weds herself to an appreciative but underwhelmed audience, equipped with nothing except size 8.5 running shoes, the narrative structure of One Thousand and One Nights, and a bloated sense of self. Ida creates, stars, and bursts open in her world premiere Prime Time production.
ABOUT THE NEO-LAB:
Comfortable Shoes is the 4th Prime Time production to be commissioned under The Neo-Lab, an in-house residency to support the development of one Neo-Futurist Prime Time show. Originally supported by the National Endowment for the Arts to premiere Tif Harrison's Saturn Returns, this marks the fourth project to be supported by Neo-Lab.
previous Neo-Lab presentations:
Saturn Returns by Tif Harrison (2016/17)
Tangles & Plaques by Kirsten Riiber (2017/18)
Remember the Alamo by Nick Hart (2018/19)