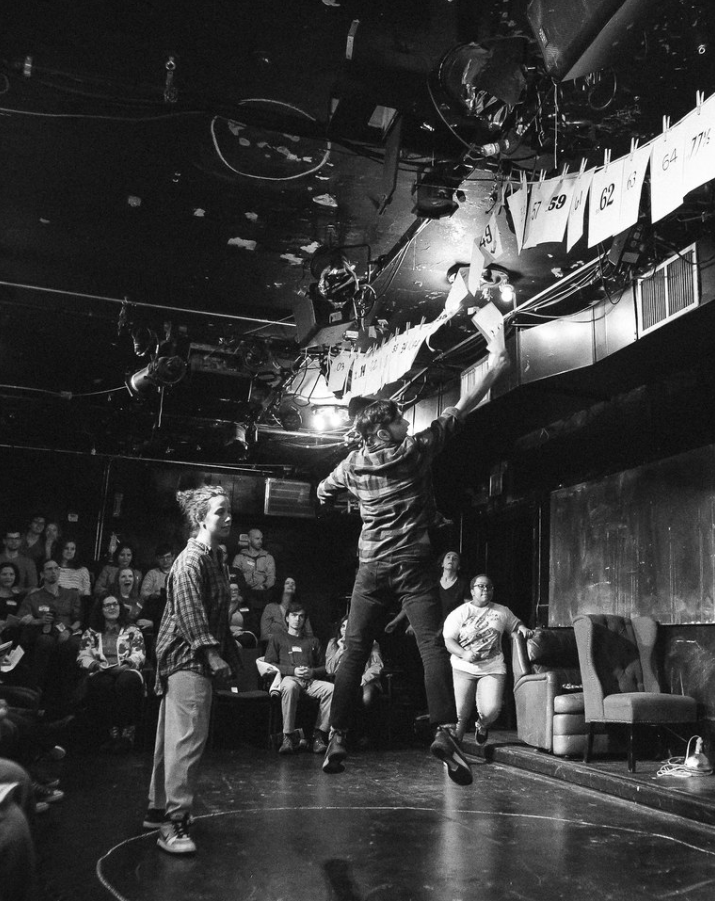 Saturdays at 10:30PM / Sundays at 7PM
IMPORTANT UPDATE:
Beginning January 31, 2022 booster shots will be required to be considered fully vaccinated and eligible to enter The Neo-Futurist Theater. Read our Health & Safety Policy here.
Join us for I,Object! 30 Neo-Futurist Puppet Plays 
Fridays and Saturdays @ 10:30PM and Sundays @ 7:00PM
1/21 – 1/30.
It's The Infinite Wrench only wayyyy more props. Learn more here. 
---
At THE INFINITE WRENCH you'll see thirty original plays in sixty minutes; written and performed by The Neo-Futurist Ensemble.
Every Saturday at 10:30pm, Sundays at 7:00. Get your tickets in advance, or just walk up to the door with cash or card in hand. Easy.
Other Need-to-knows:
Masks – N95, KN95 or two surgical/cloth are required indoors for all guests.
Vaccination

– we require proof of vaccination for all guests.

Note: Beginning January 31st, 2022, booster shots will be required to be considered fully vaccinated and eligible to enter The Neo-Futurist Theater. 

Read our full Health & Safety Policy here.
The Infinite Wrench is an ADULT show with ADULT themes! Any given show may include: nudity, swear words and content appropriate for ages 16 and up. If you have questions, contact us at admin@neofuturists.org
For tickets click here, or call us at 773-878-4557 (M-F, 10a-6p). / Walk-up tickets are also available at a first-come-first-serve basis (cash or card); doors open 1 hour prior to showtime.
"Oh, but are you in New York or San Francisco!" You seek a different Wrench! The Neo-Futurists are in Chicago, and you are looking for our beloved sister companies, The NY Neo-Futurists and The SF Neo-Futurists.
Accessibility requirements for yourself or someone in your party? Call us at 773-878-4557 and we're happy to accommodate to your needs (email also available – admin@neofuturists.org)
---
What is it? Critics say this…
"Thirty years and one major name change later, the Neo-Futurists' signature show…continues to pack them in late nights with [30 short plays] about everything under the sun."
— Chicago Tribune
"Any version of The Infinite Wrench is going to be a surprising, occasionally powerful, often hilarious and always entertaining evening."
– Chicago On Stage
"…the ingenuity and engagement of the work not only remains but has deepened….the ensemble maps thorny social, psychological, and political terrain with foolishness and ferocity."
— Chicago Reader
---
:::ABOUT THE INFINITE WRENCH:::
Each play offers something different, be it funny, profound, elegant, disgusting, topical, irreverent, terrifying, or a song; all are truthful and tackle the here-and-now, inspired by the lived experiences of the performers. With new plays every week, THE INFINITE WRENCH is The Neo-Futurists' ongoing and ever-changing attempt to shift the conventions of live performance and speak to those unreached or unmoved by traditional theater.
Get your tickets for any (or all) performances on Saturdays @ 10:30pm, and Sundays @ 7pm, at The Neo-Futurist Theater (5153 N. Ashland – intersection of Foster & Ashland). Performances of THE INFINITE WRENCH are priced at $10. Note: walkup tickets are available with cash or card. 
Please also note that there is absolutely NO LATE SEATING for any of our performances and we are unable to offer exchanges or refunds on tickets purchased in advance, so check your calendar twice. If you show up late, we reserve the right to re-sell your ticket to patrons who waited in the heat/rain/snow to see the show.
An advance sale will guarantee your seat for the performance and one of our friendly & powerful House Managers will have an envelope with your name on it containing your pre-paid tokens as you enter the Theater from Ashland Ave. All of our Theater's seats remain general admission and patrons who purchase tickets in advance must still wait in line to return their token, receive their name-tag and find some choice seats. If you have your eye on the front row, you still need to get here early!
The Infinite Wrench is recommended for audience members 14 and older.