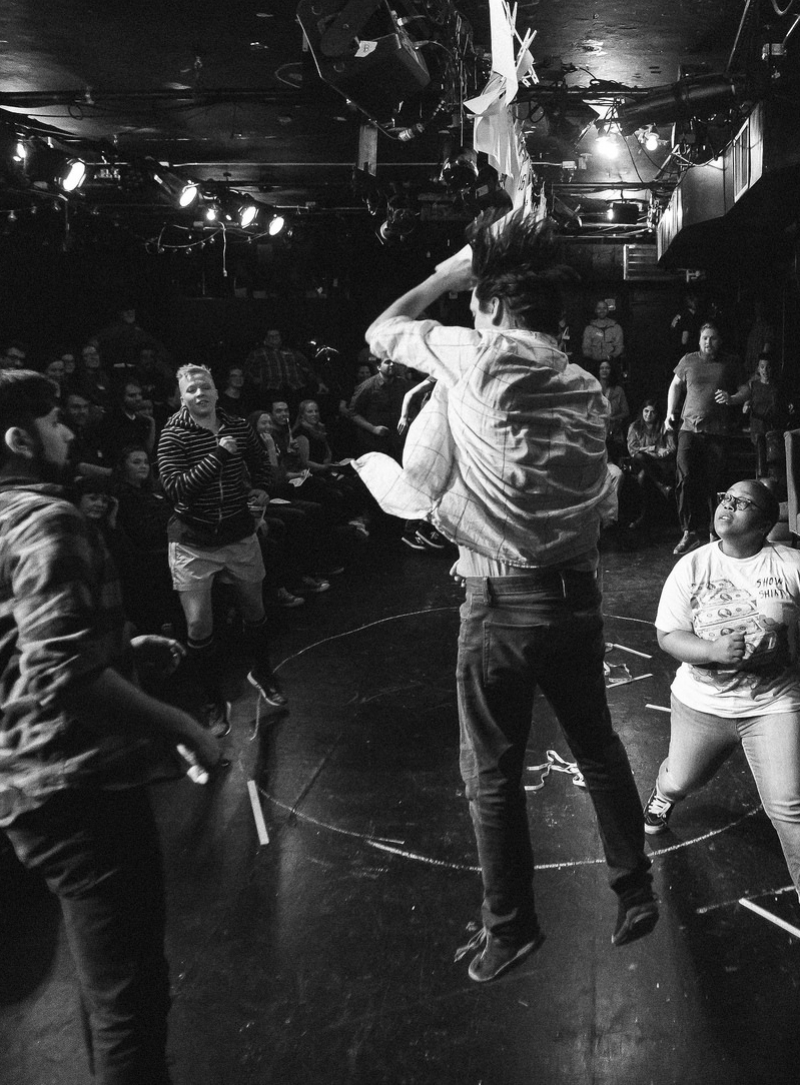 Buy Tickets
Fridays & Saturdays at 11:30pm / Sundays at 7pm
Walkup $10-$15 (cash only), Online $20 with a roll-back refund
Most appropriate for ages 14 and up
THE INFINITE WRENCH is a mechanism that unleashes a barrage of two-minute plays for a live audience.
Each play offers something different, be it funny, profound, elegant, disgusting, topical, irreverent, terrifying, or a song; all are truthful and tackle the here-and-now, inspired by the lived experiences of the performers. With new plays every week, THE INFINITE WRENCH is The Neo-Futurists' ongoing and ever-changing attempt to shift the conventions of live performance and speak to those unreached or unmoved by traditional theater.
Get your tickets for any (or all) performances on Fridays/Saturdays @ 11:30pm, and Sundays @ 7pm, at The Neo-Futurist Theater (5153 N. Ashland – intersection of Foster & Ashland). Performances of THE INFINITE WRENCH are priced at $9 + the roll of a six-sided die (or, pre-paid $20 with a rollback). Note: walkup tickets are cash-only.
Please also note that there is absolutely NO LATE SEATING for any of our performances and we are unable to offer exchanges or refunds on tickets purchased in advance, so check your calendar twice. If you show up late, we reserve the right to re-sell your ticket to patrons who waited in the heat/rain/snow to see the show.
An advance sale will guarantee your seat for the performance and one of our friendly & powerful House Managers will have an envelope with your name on it containing your pre-paid tokens as you enter the Theater from Ashland Ave. All of our Theater's 147 seats remain general admission and patrons who purchase tickets in advance must still wait in line to return their token, roll the die for their cash refund, receive their name-tag and find some choice seats. If you have your eye on the front row, you still need to get here early!
The Infinite Wrench is recommended for audience members 14 and older. 
Calendar for The Infinite Wrench