NYE with The Infinite Wrench
Pre-Party & Show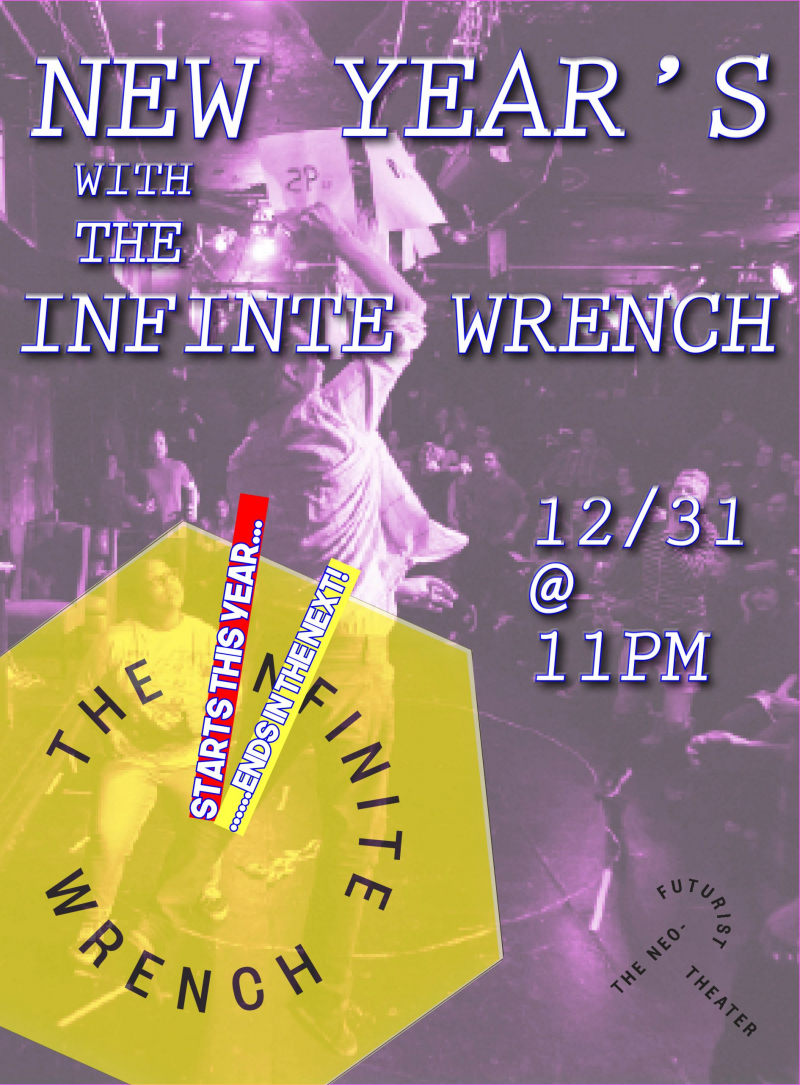 New Year's Eve, 12/31 @ 11:00
New Year's Eve with The Infinite Wrench
Written, Directed, & Performed by The Neo-Futurists
Tuesday Dec 31 @ 11:00PM, party @ 9:30PM
---
Kiss 2019 goodbye as The Neo-Futurists race through 60 minutes packed with 30 plays that will move you, hold you, spin you and lift you into this next year of 2020…on the dot!
A Chicago tradition like no other, New Year's Eve with The Infinite Wrench always proves to be an event unlike any other in the city, starting at 11:00pm sharp and concluding at the stroke of midnight with a champagne/sparkling cider toast with the cast of Neos as they clear the finish line. Preshow party includes beers provided by Metropolitan Brewing and on-demand typewritten poetry by Poems While You Wait.
12/31 @ 11PM / doors open for party @ 9:30PM / at The Neo-Futurist Theater, 5153 N Ashland
Tickets are $50 to benefit and continue the work of The Neo-Futurists, a not-for-profit theater. Guests are provided complimentary drinks, entertainment and a light dinner.
---
Cast: Neo-Futurists Joanna Jamerson, Kirsten Riiber, Neil Bhandari, Kurt Chiang, and Nick Hart. With Neo-Futurist Alum Ryan Walters. MItchell Chapman in the booth.
---
Questions? Email us at admin@neofuturists.org, or call the office at 773-878-4557 (M-F 10a-6p / show dates until 6:45PM)