AN ALL-NIGHT, ALL-VIRTUAL FUNDRAISER FOR THE NEO-FUTURISTS (IN WHICH THE ENSEMBLE WROTE, REHEARSED & PERFORMED 30 DIGITAL PLAYS IN 24 HOURS)
Help us reach our goal by the end of the year!
---
To those who celebrated TIW24 with us, thank you for your generosity, your enthusiasm, and for allowing me to drink some milk between hot sauce transportation efforts. For those who didn't; cure your FOMO instantly by donating any amount here to receive the full 24 hour show along with access to our Digital Neo-Futurarium where we've embedded four of our special shows (Pride, Halloween, Alumni and Best of 2020). That's 120 plays (and three original albums) just waiting to be enjoyed.  Drop by anytime!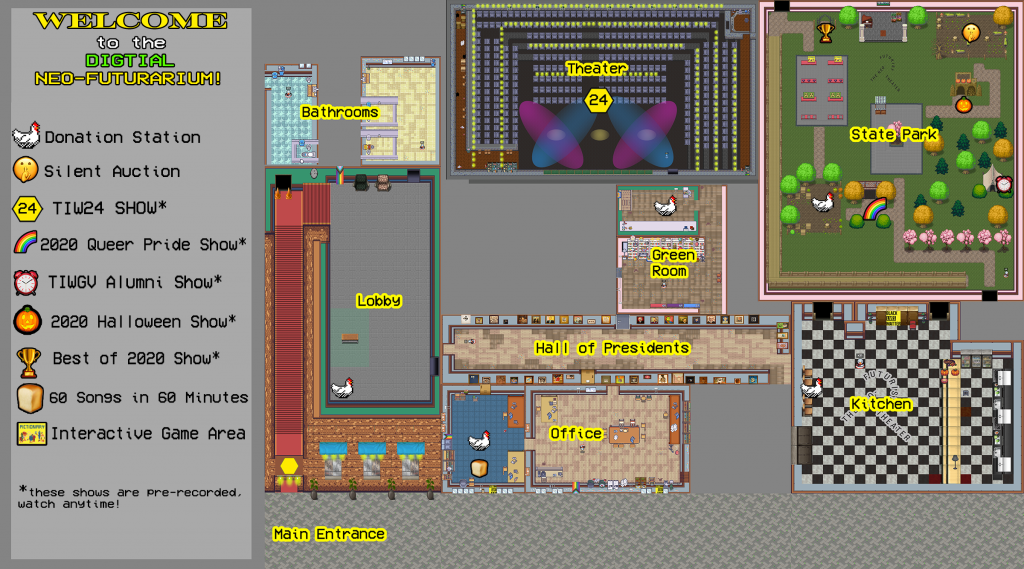 When the pandemic began, we at The Neo-Futurists asked ourselves: "What will we—an experimental theater known for high-fiving, bear-hugging, slobber-swapping, and sweat-dripping all over our audience—do?!" Closing our doors and turning away from our audiences went against our instincts. So we didn't turn away. Instead, we created a digital adaptation of our ongoing show The Infinite Wrench – The Infinite Wrench Goes Viral. 
Since then, we have created over 700 digital plays and reached audience members all over the world. We have transformed our lobby into a Drop Site for an 8-week Baby & Parent Supply Drive, produced 45 Plays for America's First Ladies to critical acclaim, provided 12 online writing & performance workshops through Neo-Toolbox, continued our Scholarships for Artists of Color program (for which we're taking applications thru January 22), and began developing an all new virtual 8-week class to debut January 2021. And we wouldn't have been able to do this without you, our dedicated superfans, family, and supporters.
But now we need your help so that we can keep tongue-kissing your email inbox with new plays every weekend (until it's safe to slobber-swap with you in person again). Please consider donating a tax-deductible gift here to sustain us as we continue to make our signature sloppy, goofy, tender, affordable, and true-to-life experimental theatre in the new year.
to the future!
KR & the Neos
---
we need your help to support our mission to create immediate, essential and activating theater for everybody!
---