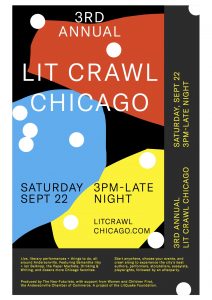 The Neo-Futurists are proud to produce this year's annual Lit Crawl Chicago 2018, co-curated by Jessica Anne (Neo-Futurist Alum), Gwynn Fulcher (Artistic Associate), and Lindsay Muscato (Write Club, Neo-Futurist affiliate)!
On Saturday, September 22nd, Lit Crawl kicks off at 3:00PM with The Paper Machete Chicago's long-running "live magazine" hosted at The Green Mill. From there, crawlers will twist and turn through the streets of Andersonville and Edgewater, tracking down their most favorite and newly-found discovery amongst the Chicago writing and performance communities. Featuring over 30 individual artists and curated reading series, in 9 different venues, the whole event accumulates with a reading and conversation with highly-acclaimed Samantha Irby!
Browse the full lists of readers, artists and venues by clicking the "Full Line-up" tab. Most of the crawl is FREE! To purchase tickets to Samantha Irby, or The Neo-Futurist's remount of Tangles & Plaques, click the links below.
Samantha Irby headlines Lit Crawl Chicago 2018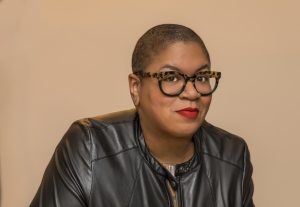 Samantha Irby
Reading, Book Signing, and Interview with Ian Belknap
Saturday, September 22 at 9pm
Ebenezer Church
The final event of the day takes the Crawl to Ebenezer Lutheran Church at 9pm: Samantha Irby headlines, reading from her upcoming projects and talking with WRITE CLUB founder Ian Belknap. Samantha Irby writes the blog bitches gotta eat and has published multiple books, including meaty and we are never meeting in real life. Bring your copy or purchase a book from our friends at Women and Children First during a post-show book signing.
Lit Crawl Chicago 2018 begins at 3PM at the Green Mill. Below is a list of all scheduled events by time slot and venue. Addresses to venues can be found at the bottom.
3:00-5:00
~ Paper Machete @ The Green Mill
4:00-4:45
~ Junior Varsity @ Hopleaf
~ Ian Belknap @ Coffee Studio
5:00-5:45
~ Shame on Us (w/ Lisa Buscani, The Neo-Futurist Ensemble and Chad the Bird) @ Neo-Futurists (in State Park)
~ Improvised Jane Austen @ The Neo-Futurists (in Theater)
~ Tuesday Funk @ Hopleaf
~ One Year Chekhov @ Swedish American Museum
~ This Dress Has Pockets! (Full of Severed Fingers) @ AlleyCat Comics
~ Miss Spoken @ Coffee Studio
6:00-6:45
~ The Skewer @ Hopleaf
~ You're Being Ridiculous @ Swedish American Museum
~ Storytime with Drag Queens @ Women and Children First
~ Lily Be Workshop @ AlleyCat Comics
~ Story Club @ Coffee Studio
6:30-7:15
~ Theatre Y
7:00-7:45
~ Drinking & Writing @ Hopleaf
~ Written on the Body @ Swedish American Museum
~ Psychotic Break @ Coffee Studio
7:30-8:30
~ WaCF Book Panel @ Women and Children First
7:30-8:55
~ The Neo-Futurists present: Tangles & Plaques @ The Neo-Futurists (ticketed event)
8:00-8:45
~ Sex & Candy @ Early to Bed
9:00
~ Samantha Irby Reading & book signing @ Ebenezer Church (ticketed event) followed by after-party @ Empirical Brewery
**and remember to drop-in on Poems While You Wait, shelling out on-demand typewritten poetry 5:30-7:30 outside of Women and Children First! ($5 per poem)**
Addresses
AlleyCat Comics – 5304 N Clark St
Coffee Studio – 5628 N Clark St
Early to Bed – 5044 N Clark St
Ebenezer Lutheran Church – 1650 W Foster Ave
Empirical brewery – 1801 W Foster
The Green Mill – 4802 N Broadway Ave
Good Deal Garage – 1552 W Olive Ave
Hopleaf – 5148 N Clark St
The Neo-Futurists – 5153 N Ashland Ave
Swedish American Museum – 5211 N Clark Street
Women and Children First – 5233 N Clark St