THE INFINITE WRENCH
GETS PRIDEFUL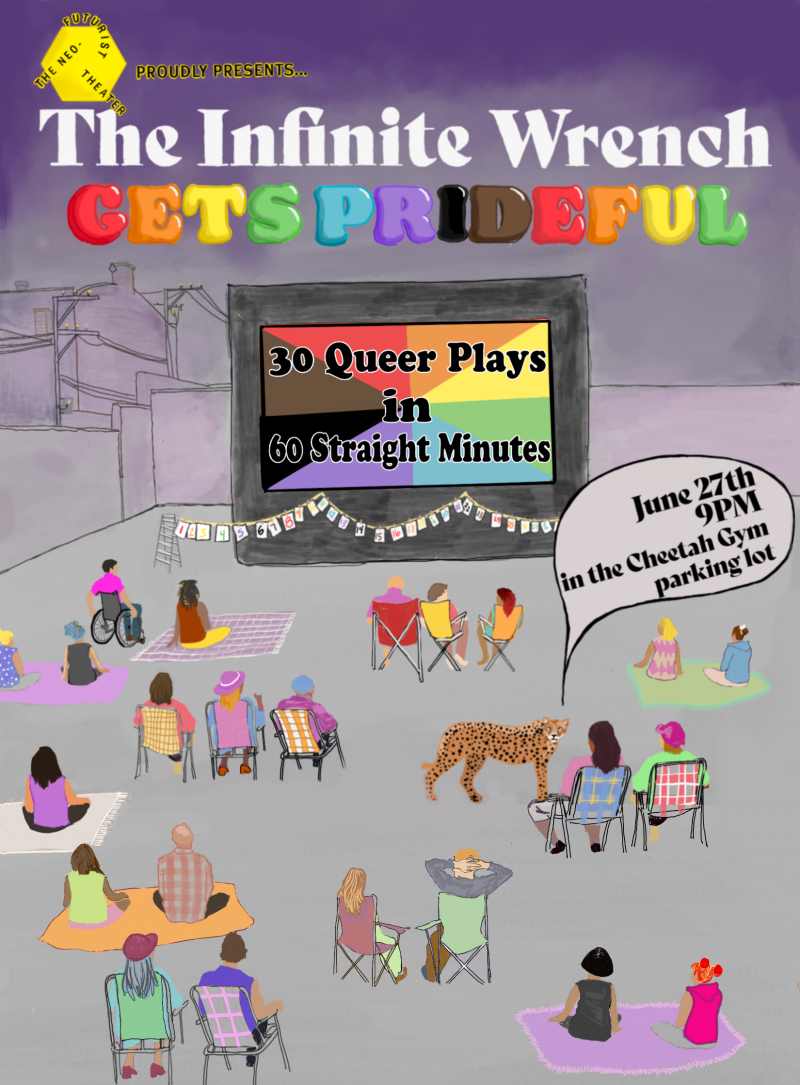 in the parking lot @ 5248 N Clark St
THE INFINITE WRENCH GETS PRIDEFUL
30 Queer Plays in 60 Straight Minutes
~~~a socially-distanced outdoor screening of 30 Queer Plays benefitting Casa Al-Fatiha~~~
This event is SOLD OUT
To add your name to the Waitlist, click here: https://forms.gle/h13P7hAjnbthXzPVA
And don't worry!  We will be releasing an at-home, streamable version of the show on Sunday 6/27 and 100% of those proceeds will go to our beneficiary, Casa Al-Fatiha.
*~*~*~*~*
Join us for 30 glow'd-up,  sweat-soaked, lipstick-smeared *digital* Queer-themed plays screened LIVE in the parking lot behind Cheetah Gym, Ravinia-style. 100% of ticket sales go to Casa Al-Fatiha, an autonomous, Chicago-based, sanctuary house for LGBTQ+ asylum seekers, people released from detention, and peer supporters.
Bring your lawn chairs/blankets/yoga mats and *warm-up your vocal cords* because you'll be determining the order of our show. Plus, we'll have custom merch & beverages to keep you c~o~o~l.
SUNDAY JUNE 27th 
8PM PRE-SHOW w/DJ ARIEL ZETINA
9PM SHOW
10PM CROWD KARAOKE*

*You guessed it. A post-show, socially-distanced simultaneous Karaoke session in which everyone scream-sings together under the moonlight & a 33 foot screen with lyrics. 
SAFETY NOTES: This is an outdoor event, and masks are required. The lot will be transformed into a socially distant Ravinia-style setup where everyone will get a 5′ by 7′ rectangle that fits 4-lawn chairs. Each individual must purchase a ticket for access.  Wheelchair accessible bathroom and sanitation station will be available onsite.
Before purchasing your ticket, take a moment to read our Policies & Procedures for Outdoor Events.
Learn more about Casa Al-Fatiha here.